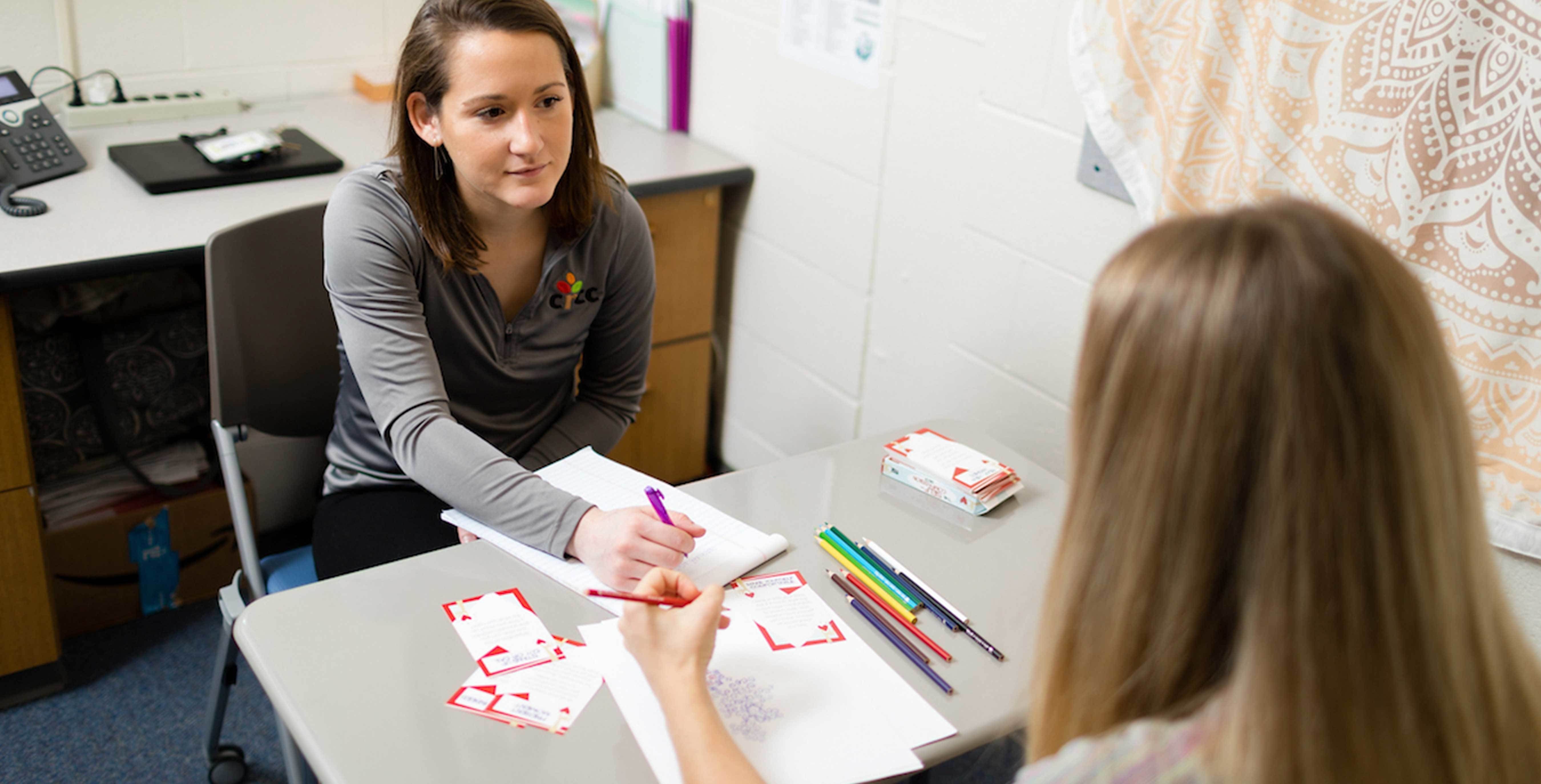 Managing routines, emotions and wellbeing can be difficult for any family. Our behavioral health therapists provide Nebraska families with children ages 3 to 19 a sense of stability, continuity of care and guidance. When your family is mentally healthy, you're better able to handle life's challenges, build positive relationships, and maintain resilience in times of adversity and trauma.
School-based wellness services 
Untreated behavioral and emotional needs form barriers to learning for students, and, if untreated, can impact the entire classroom and family. The Integrated School-Based Student Wellness Service was started in response to discussions with Millard Public High School Principals and Administrators regarding the mental health and social/emotional needs of students and families.
Our school-based wellness services bring mental health services to a convenient, accessible and familiar school environment, all while maintaining strong privacy. Our student wellness counselors are available to provide individual therapy, family therapy, group therapy, crisis support and educational presentations for families and teachers. Counselors use a holistic approach to work collaboratively with the education team to help support each student's overall academic success.
Referrals for a student to begin seeing a student wellness counselor can be made by a student, family caregiver, case worker, school administrator, school guidance counselor or teacher. All referrals will be directed to your school's social worker. Once permission from a parent or legal guardian has been completed, your student can begin mental health services.

LOCATIONS
Millard South High School
14905 Q Street
Omaha, NE 68137

Bellevue East High School
1401 High School Drive
Bellevue, NE 68005
402.293.4192

Bellevue West High School
1501 Thurston Avenue
Bellevue, NE 68123
402.827.8557

Bellevue Academic Center of Excellence
2820 Arboretum Drive
Bellevue, NE 68005

Bellevue Academic Center of Excellence
2820 Arboretum Drive
Bellevue, NE 68005

Ralston High School
8969 Park Drive
Ralston, NE 68127
402.331.7373

Keith Lutz Horizon High School
5300 George B Lake Parkway
Elkhorn, NE 68022

Papillion LaVista High School
402 E Centennial Road
Papillion, NE 68046
402.898.4830

Papillion LaVista South High School
10799 NE-370
Papillion, NE 68046
402.898.4830

Ralston Middle School
8202 Lakeview Street
Omaha, NE 68127
402.502.5671

Mockingbird Elementary
5100 S 93rd Street
Omaha, NE 68127
402.331.6954

Millard North High School
1010 S 144th St.
Omaha, NE 68154
402.715.1418

Millard West High School
5710 S 176th Ave
Omaha, NE 68135
402.715.1418
Contact us to learn more about our school-based wellness services.
Telehealth
Our behavioral health therapists now offer out-patient telehealth behavioral therapy. Our telehealth services feature live, one-on-one video appointments with a CRCC behavioral health therapist from the comfort of your home. 
Most health insurance companies are now covering telehealth. All you need to access sessions is an internet-connected device with a camera and microphone, such as a computer, cell phone or iPad.
Contact us to learn more about our telehealth behavioral therapy.