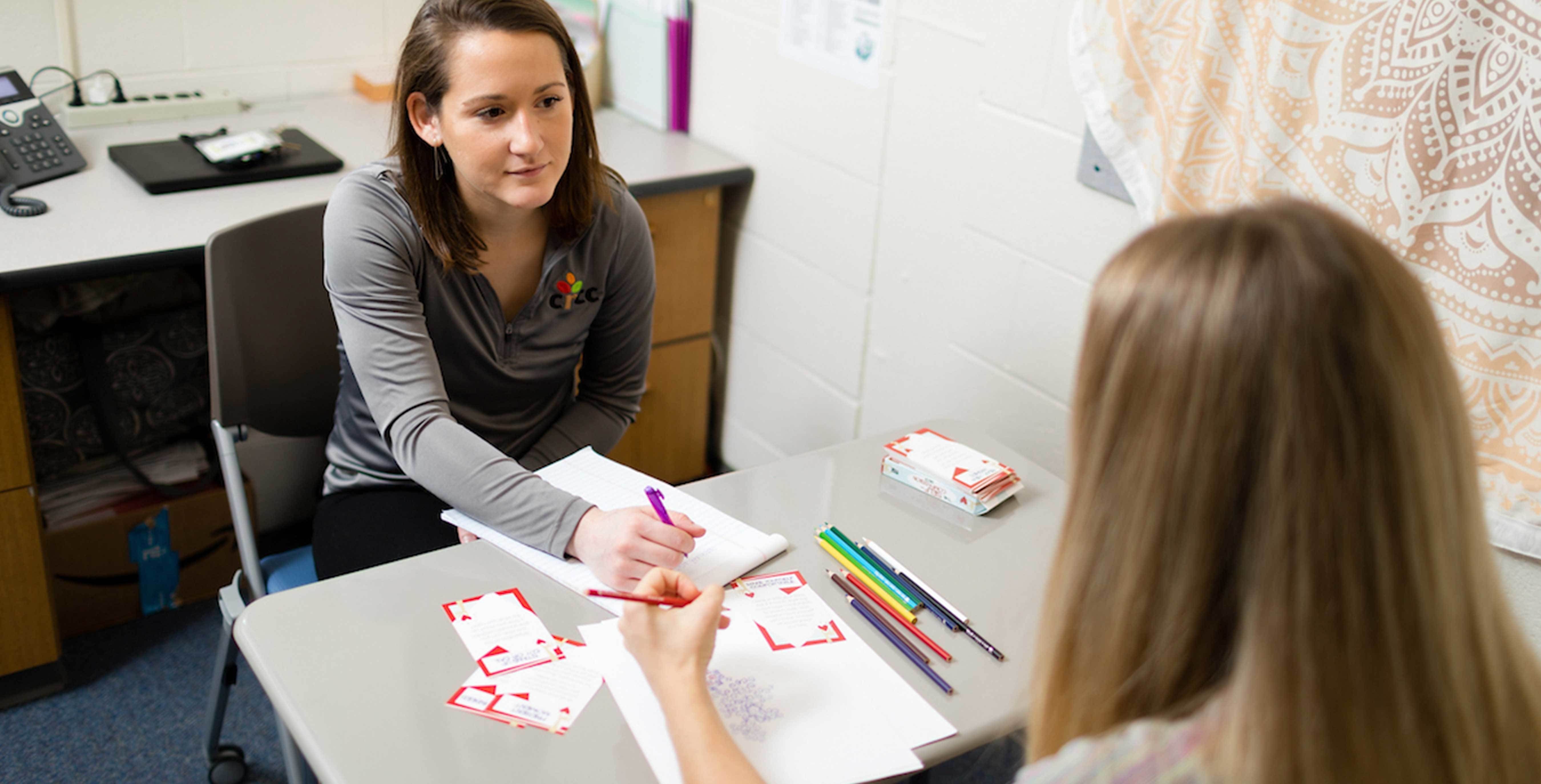 Managing routines, emotions and wellbeing can be difficult for any family. Our behavioral health therapists provide Nebraska families with children ages 4 to 21 a sense of stability, continuity of care and guidance. When your family is mentally healthy, you're better able to handle life's challenges, build positive relationships, and maintain resilience in times of adversity and trauma.
Outpatient Mental Health Therapy
Outpatient mental health therapy is also available at both CRCC Center locations. Our well-trained and experienced mental health practitioners provide individual and family therapy to children and adolescents ages 4 to 21 years-old. CRCC has a reputation of providing specialized care and our outpatient mental health therapy services are another extension of this core value. Our therapists can work with a wide range of mental health issues, ages and developmental levels.Art therapy, which is mental health therapy with an emphasis on art techniques and methods, is also available at both Centers. This form of therapy has proven to be successful in addressing many mental health issues and is particularly useful when working with children and adolescents who may respond better to these type of interventions versus talk therapy alone.
Group Mental Health Therapy
Building a Mental Wellness Toolkit Through Art Therapy
For ages 11-14 (Middle School), Mondays, June 5-26, 11 a.m. – 12:30 p.m.
Life is full of transitions and adjustments so having a few extra tools in our personal toolkit to help navigate through life challenges can lead to better overall mental wellness. Art therapy is a fun and creative way to build skills and knowledge in the areas of:
Positive identity development
Stress management
Coping skills
Emotional expression and regulation
Interpersonal relationships and social expression

Art Therapy for Mental Wellness with DBT (Dialectical Behavior Therapy) Skills
For ages 14-18 (High School), Mondays, July 10 – 31, 11 a.m. – 12:30 p.m.
Art therapy is a fun and useful way to build skills and knowledge that can be utilized in a teen's current stage of life and in all life stages. This group will focus on a variety of skill development areas with Dialectical Behavior Therapy (DBT) as a primary focus. DBT is an evidenced-based intervention that focuses on thoughts and behaviors as a way to enhance mental wellness. Focus skill and knowledge areas of this group include:
Positive identity development
Stress management
Coping skills
Emotional expression and regulation
Interpersonal relationships and social expression
Distress tolerance
For more information about groups, please contact Sue, our therapy administrator, at 402.895.4000. Click on the Pre-Admission Group Form below for enrollment. Spots are limited and will be filled on a first-come, first-served basis.
School-Based Wellness Services 
Untreated behavioral and emotional needs form barriers to learning for students, and, if untreated, can impact the entire classroom and family. The Integrated School-Based Student Wellness Service was started in response to discussions with Millard Public High School Principals and Administrators regarding the mental health and social/emotional needs of students and families.
Our school-based wellness services bring mental health services to a convenient, accessible and familiar school environment, all while maintaining strong privacy. Our student wellness counselors are available to provide individual therapy, family therapy, group therapy, crisis support and educational presentations for families and teachers. Counselors use a holistic approach to work collaboratively with the education team to help support each student's overall academic success.
Referrals for a student to begin seeing a student wellness counselor can be made by a student, family caregiver, case worker, school administrator, school guidance counselor or teacher. All referrals will be directed to your school's social worker. Once permission from a parent or legal guardian has been completed, your student can begin mental health services.

LOCATIONS
Angela Erickson, LIMHP
Bellevue West High School
Amber Gillmore, LIMHP
Bellevue East High School
Brooke Willman, LIMHP
Papillion-La Vista High Schools
 
Contact us to learn more about our school-based wellness services.
Telehealth
Our behavioral health therapists now offer out-patient telehealth behavioral therapy. Our telehealth services feature live, one-on-one video appointments with a CRCC behavioral health therapist from the comfort of your home. 
Most health insurance companies are now covering telehealth. All you need to access sessions is an internet-connected device with a camera and microphone, such as a computer, cell phone or iPad.
Contact us to learn more about our telehealth behavioral therapy.