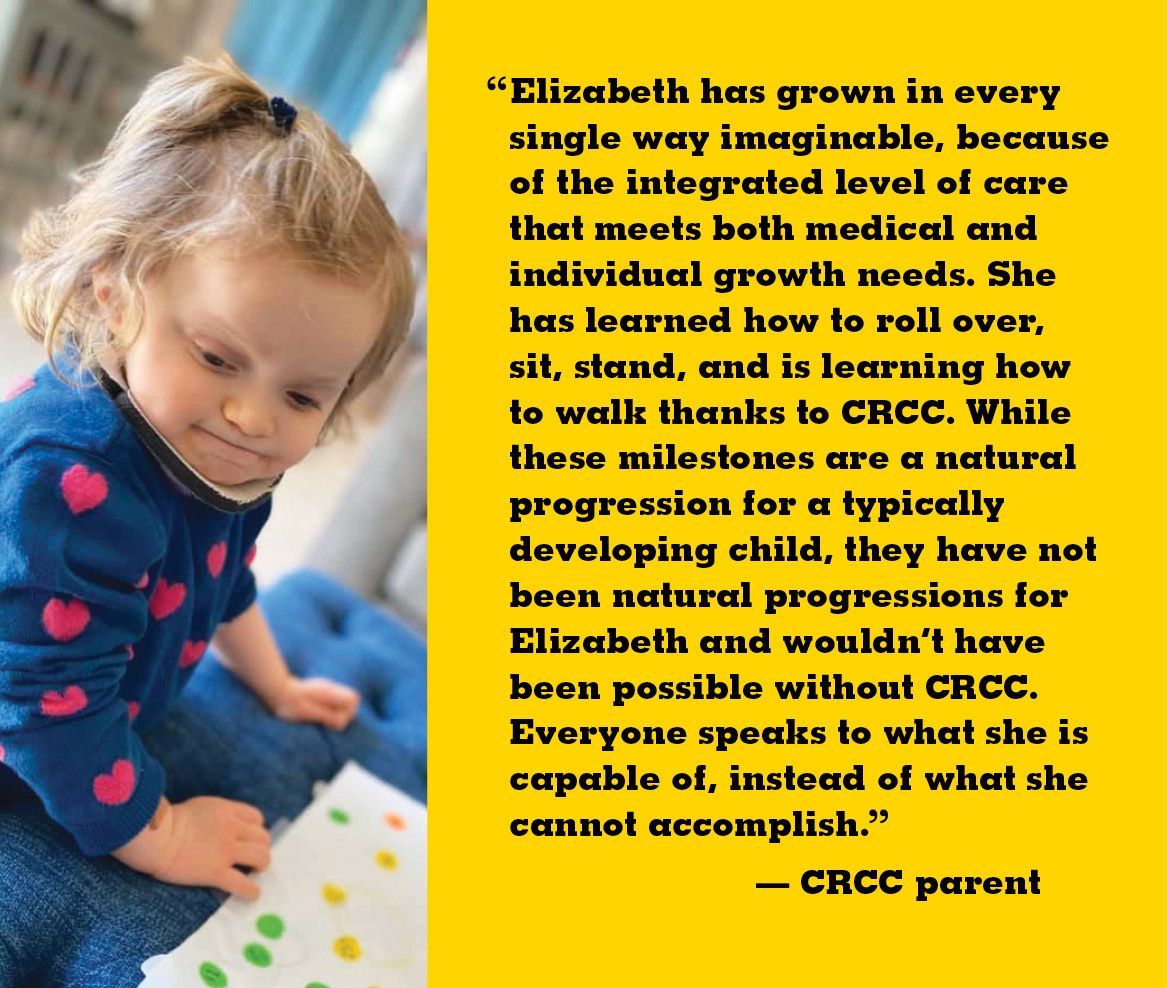 At CRCC, our innovative services provide all children, special needs and typical peers alike, the opportunity to find security, support and mutual understanding. We give families access to a range of support and tools that allow them to prove what's possible every single day, and with your help, we can continue to be a source of empowerment for years to come. 

Ways to give
Annual campaign
CRCC's annual campaign raises money to assist in supporting our regular, ongoing expenses and offset any operational deficit. This campaign is our primary source of unrestricted contributed income and is a mainstay of its fundraising efforts. You can give by texting, responding to our annual mail appeal or through our website!
End-of-year giving
End-of-year giving is an important part of supporting CRCC. These include Giving Tuesday, powered by SHARE Omaha, December 30 and December 31. Donating at the end of the year both helps CRCC reach more children and families with our services and helps you have enough tax deductions for the year. The rules around how much to deduct change depending on income level, donation amount and other variables. Check in with the IRS or your accountant about how much you'll be able to claim for the donation.
Gala
Moonbeams and Big Dreams presents an exciting opportunity for you to support CRCC's work though attending, becoming an event sponsor, giving through silent auction or funding.
Summer camp
CRCC offers a one-of-a-kind summer camp for school-age children with special needs. We have weekly themes and engaging activities for children of all abilities! An important part of our summer camp is taking children on field trips across Omaha. Because we serve children of all abilities, we need to have special, accessible school buses to accommodate everyone. The cost of bussing alone is nearly $5,000! If you would like to support our summer camp, we'd be grateful for an online donation any time of the year.
Recurring gifts
A monthly recurring donation allows you to spread the financial impact of your giving across the entire year. Please consider setting up a monthly recurring gift to support our children and families at CRCC.

Planned giving
All of us, regardless of age or wealth, have the ability to leave a legacy, assuring that your support for CRCC will continue to change the lives of generations of families with medically fragile children.
Planned giving is also referred to as gift planning or legacy giving. It enables philanthropic individuals to make larger gifts to charitable organizations than they could from ordinary income. Some planned gifts provide life-long income to the donor. Other gifts use estate and tax planning to provide for CRCC and heirs in ways that maximize the gift and/or minimize its impact on the donor's estate. 
By making your legacy commitment now, or sharing with CRCC your intentions, we will be able to look forward to a future of continued financial stability.
There are several ways to make sure your planned giving is carried out:
Make a direct donation to CRCC from your donor-advised fund
Gift from your RMD (required minimum distribution) from your IRA at any time of the year
If you are 70 ½ or older, you can transfer up to $100,000 to CRCC tax-free each year – even if that is more than your RMD
Bequest CRCC in your will
Gift your life insurance
Create an endowment at CRCC under a will or revocable trust
Create a Charitable Remainder Trust or a Charitable Remainder Unitrust
Please speak with your estate planner to ensure your wishes to support CRCC for future generations are set up and known. To explore supporting CRCC through planned giving, please contact Mike Bird, mbird@crccomaha.org or 402-496-1000.