Coordinating Hope
CRCC's behavioral health program is built on a foundation of caring, compassion and skill. CRCC's team of therapists work together to provide the highest-quality treatment and deliver a brighter future to kids and families.
Take a minute and get to know CRCC's experienced and dynamic behavioral health team.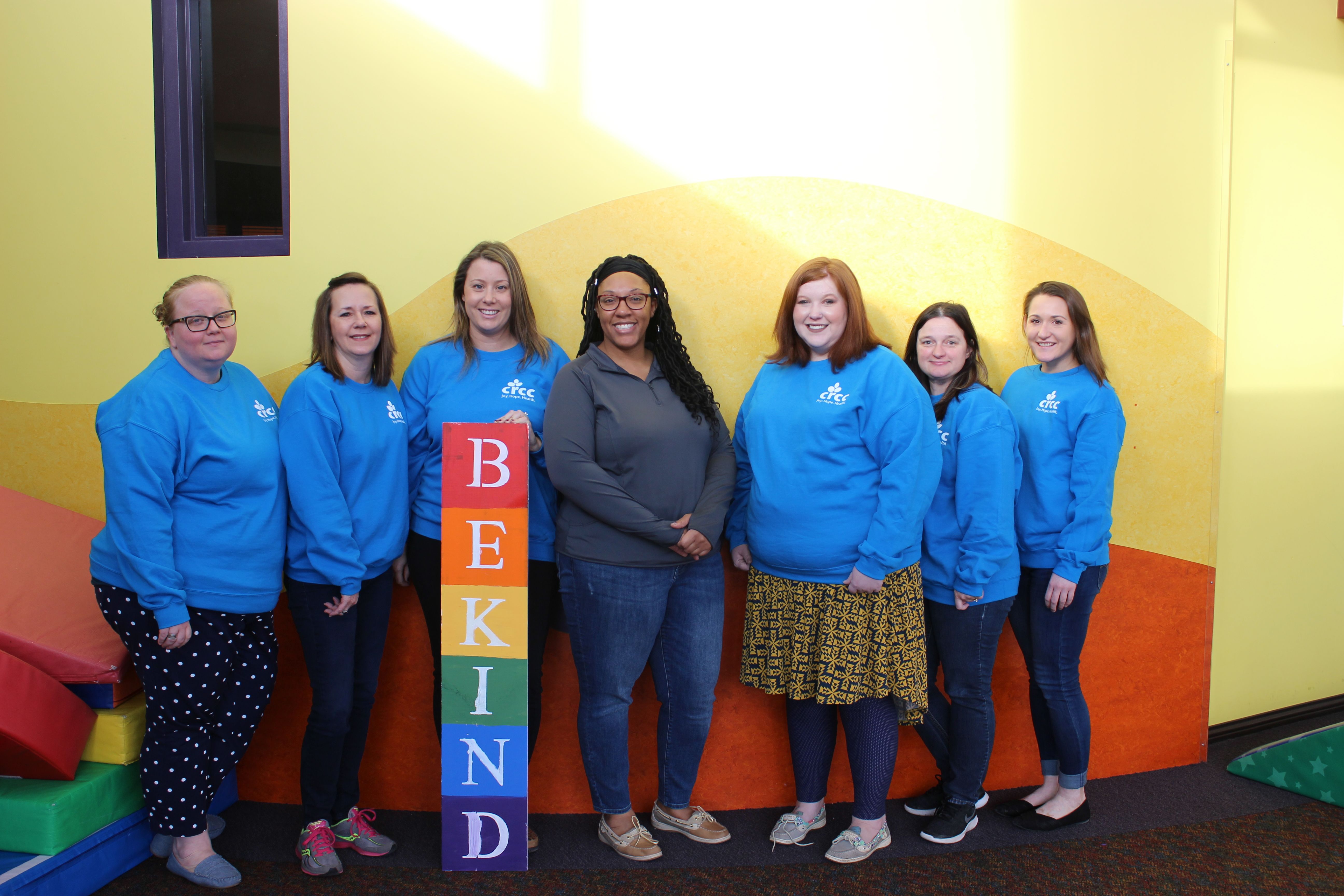 Kalisha Reed, LIMHP- Director of Therapy Services

Kalisha supervises the Behavior Health Outpatient Therapy Program and the Rehab Therapy Program at CRCC. Kalisha earned her degree from Bellevue University in Clinical Counseling and also holds a Bachelor in Pre-law Studies at College of Saint Mary, in Omaha, Nebraska.

Kalisha has experience working with youth ages 3-18 in a community outreach setting promoting mental health education and awareness. Additionally, Kalisha has worked in residential treatment facilities for both adults and youth, with particular interest in working with youth who have experienced trauma. Kalisha's interests include working with adolescents and adults experiencing depression, anxiety, suicide, self-harm, trauma, and other mental health issues. As a mental health therapist, Kalisha works from a wellness model and her person-centered approach is to support clients and families in their journey to achieve their desired goals as it relates to their physical and emotional well-being. Kalisha is passionate about helping clients and families cope with a variety of personal growth needs, including difficulties in their relationships, school issues, adjusting to life stressors, trauma, and grief/loss.

Emily Jarman, LMHP, LISW

Emily is a Licensed Independent Mental Health Practitioner (LIMHP) in Nebraska. She completed her undergraduate education at the University of Iowa with a bachelor's degree in Psychology and a Certificate in Sexuality Studies, before going on to earn a Master of Social Work (MSW) degree from the University of Wisconsin-Madison in 2012.

She has since worked with children, teens, and families in multiple settings, including in the home, as a school-based therapist, in a psychiatric residential treatment center, and as an outpatient therapy provider at CRCC before becoming CRCC's Student Wellness Counselor at Millard North High School in February of 2018.

As the Wellness Counselor, Emily provides behavioral health therapy to students in grades 9-12 on site at the school. She believes in the importance of meeting each client where they are at and utilizing their own strengths to help them progress toward their goals. Emily works with students for a variety of reasons and diagnoses, including depression, anxiety, healing from traumatic experiences, life adjustments causing high stress, etc.

Jessica Carpenter, PLMHP, PCMSW

Jessica is a Provisionally Licensed Mental Health Practitioner and a Provisional Certified Master Social Worker. She completed her undergraduate education at University of Nebraska Omaha with a bachelor's degree in Psychology in 2016 and went directly into the Masters Social Work program from which she graduated in 2019. Jessica began working for CRCC as a Wellness Counselor in August 2019 at the OPS Transitions program.

In addition to working for CRCC, Jessica also works full-time at CHI in their Psychiatric Residential Treatment Facility as a therapist and for Progressive Home Health and Hospice as Social Worker. She also sits on the Board of Directions for the Nebraska Chapter of National Association of Social Workers as an Easter Region Representative. Jessica is currently working towards her Eye Movement Desistinzation Reprocessing certification which should be complete by December 2019. As a Social Worker, Jessica incorporates the National Association of Social Worker's Code of Ethics values into her practice. She creates a warm, non-judgmental space for clients to share what is bothering them. Jessica will work with students for several reasons and are not limited to the list; depression, anxiety, struggles adjusting to change, boundaries, social skills, family dysfunction, work place conflict, and trauma. Her goal is to help her clients and their families find balance in their relationships and daily life.

Danielle Garrison, LIMHP, LPC, NCC

Danielle is a Licensed Independent Mental Health Practitioner (LIMHP, LPC, NCC) in Nebraska. She completed her undergraduate education at Dana College with a bachelor's degree in Psychology and Spanish in 2007. Danielle then went on to complete her graduate studies, earning a Master of Science in Community Counseling from the University of Nebraska Omaha in 2010.

Following graduation, Danielle served adolescent populations through Children Square USA and Boys Town Treatment Group Home. She then collaborated with community resources while working at OMNI Behavioral Health's Eating Disorder Clinic, helping both adolescents and adults through Intensive Outpatient and Outpatient Services in the clinic and Home-Based Therapy Programs. In 2015, Danielle returned to Boys Town's Psychiatric Residential Treatment Center, working with adolescents struggling with various behavioral and mental health needs, collaborating with the Juvenile Justice System and Department of Health and Human Services. In September 2019, Danielle embarked on an exciting journey to Bellevue East and Bellevue West High School, serving as a Wellness Counselor through CRCC.

Danielle provides behavioral health therapy via individual, family, and group therapy opportunities on site in the Bellevue Public High Schools. This permits access to mental health services regardless of transportation concerns, time constraints, and can assist in providing more immediate care and early intervention, decreasing time away from academic opportunities. Danielle assists individuals for a variety of reasons including, but not limited to, struggles with depression, anxiety, building pro-social skills, substance issues, eating related concerns, trauma-related concerns, life changes, and behavioral disorders that interfere with the quality of life and engagement in academic success.

Danielle's primary goal in working with students is to promote and empower the youth to advocate and implement useful interventions independently for long-term success. Danielle creates a unique caring environment by addressing and accepting each individual where they are at, identifying their desired change, and building a path together to achieve their goals.

Clifton Hobbs III MS, PLMHP

I am here to help! We all face situations or challenges from time to time that we might not be quite sure how to handle. I am here to partner with you and help you through those times, or even act as a sounding board if you just need to talk! My counseling approach builds on a simple foundation – getting to know you. No two people are the same, and no two situations are exactly the same. I truly enjoy getting to know people, what your strengths are, what your challenges are, and what your goals are. We can work together to establish a treatment to achieve them, and maybe even have some fun along the way!

I am a Provisionally Licensed Mental Health Practitioner (PLMHP) in Nebraska. I completed both my bachelor's degree in Psychology and a Master of Science in Clinical Counseling degree at Bellevue University. I have experience working with drug/alcohol issues, depression, anxiety, stress, self-esteem, co-dependency, major mental health, trauma, and grief.

As the Wellness Counselor, I provide behavioral health therapy to students in grades 9-12 on site at Bellevue West High School. A major benefit to this school-based therapy is the ability for students to see a therapist without having to coordinate transportation or miss a lot of class time.

5 Fun Facts about your Wellness Counselor
• I graduated from Bellevue West (T-Birds for life!!)
• I like to take road trips out in the country.
• My favorite color is purple.
• I am a huge Star Wars fan, but I also love Star Trek.
• Dwayne "The Rock," Johnson is my favorite actor and WWE superstar of all time.

Chris Bowlby, LMHP, RPT

Chris is a Licensed Mental Health Practitioner (LMHP) in the state of Nebraska, as well a Registered Play Therapist (RPT). She earned her Master's Degree in Human Relations from the University of Oklahoma.

As a student Wellness Counselor, Chris provides behavioral health therapy for students on site at Papillion La Vista High School and Papillion La Vista South High School.

Chris has over 20 years of experience providing therapy for children, teens and their families. Prior to joining CRCC, Chris worked within the foster care and adoption field supporting families and providing trainings for mental health therapists. Chris has extensive knowledge providing therapy for those who have experienced trauma, sexual abuse, anxiety, depression, school issues and family difficulties.

Chris enjoys working with teens and assisting them with navigating challenges that have had a negative impact on their well-being as well as the family unit.

Celeste Florea, LIMHP, LMFT, MA

Celeste is a Licensed Independent Mental Health Practitioner and Marriage and Family Therapist in the state of Nebraska. She completed her undergraduate education in psychology and international studies at Oklahoma Christian University in 2012 and her Master's degree in clinical psychology with an emphasis in marriage and family therapy from Pepperdine University in 2014.

As Student Wellness Counselor, Celeste provides behavioral health therapy on-site or via telehealth for students at Mockingbird Elementary school and also provides telehealth services for Ralston Middle School and Ralston High School. She has experience working in residential care, outpatient care, and school-based settings with kids and their families. She works with students for a wide variety of reasons including acting-out behaviors, trouble with peers, bullying, anger, depression, anxiety, grief/loss, trauma, family stressors, social skills, and life adjustments. She loves finding creative and individualized ways to best help each student move forward towards their goals.