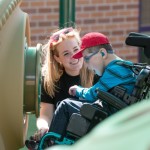 Together, we can do anything.
Hours: Monday-Friday 7am-6pm and Saturday 8am-12pm
CRCC's pediatric therapy program emphasizes a caring, compassionate and client-centered approach. We value quality and continuity of care and family partnerships in an integrated, team-oriented environment.
Both within our day and outpatient programs, our team of pediatric Physical, Occupational, Speech & Feeding/Swallowing Therapists specialize in working with children and adolescents with a wide range of diagnosis, medical complexities and cognitive challenges.
We offer evaluation, treatment and consultation services in an environment specific to meet the needs of children.
Whether your child is being treated for a temporary or long-lasting condition, our team of specialists can create a customized plan that addresses your child's unique needs and guide them in achieving their maximum level of independence.
Therapy Video Series
CRCC's therapists are working together to bring you a series of informational videos with fun ideas of ways to further your child's development at home. "Strength, Balance and Coordination" is our first video in the series.